Magnum Research Desert Eagle

The Desert Eagle has been capturing the imagination of shooters for decades in movies and on games. The Desert Eagle was designed to be the largest semi-automatic handgun, using a rotating bolt head like a rifle. It is available in both steel and aluminum frames in a variety of finishes. Full magnum ammunition must be used in order to cycle this fun beast.
Calibers: 357 Magnum (9-round), 44 Magnum (8-round), 50 AE (7-round)
Finishes: Stainless, Black, Tungsten (44 Mag, 50 AE only), Aluminum, White Matte Distressed (44 Mag, 50 AE only), Black Tirger Stripe, Gold Tiger Stripe, Colour Case Hardened, Polished Chrome, Burnt Bronze (44 Mag, 50 AE only), Titanium Gold, Brushed Chrome.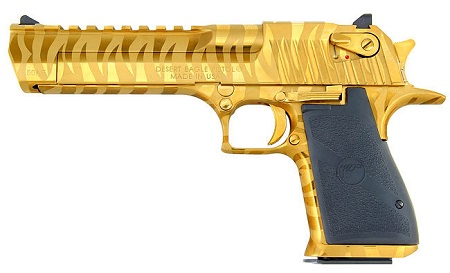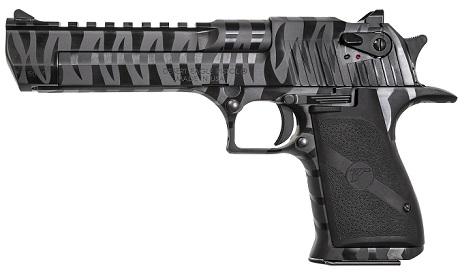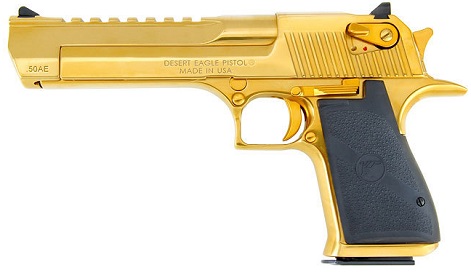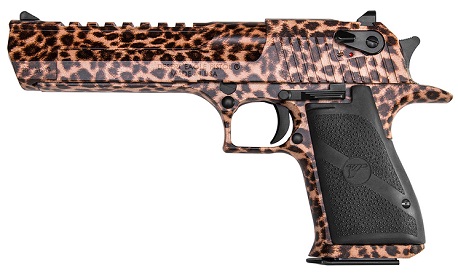 Magnum Research Desert Eagle 1911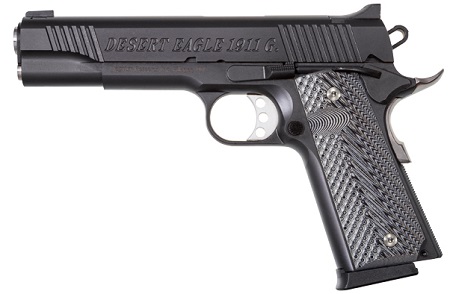 The Desert Eagle 1911 is as close as you can get to race gun. As a production model, it ticks all the boxes. Featuring a bull barrel in 9mm, G10 grips, adjustable sights and a fine trigger, it is a 1911 to have and to hold.
Caliber: 9mm Luger with 5" Bull Barrel
Grips: G10
Magnum Research Baby Desert Eagle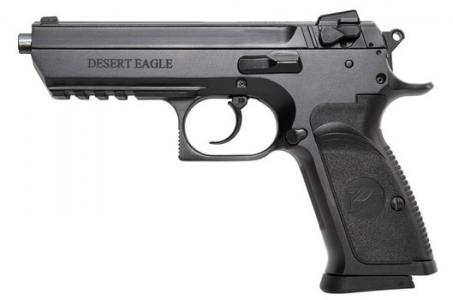 The Gen III Baby Desert Eagle is a full-sized steel frame Baby Eagle. Externally it may be different from the Gen II, but internally, most parts are the same, and are built upon the legendary design of the Jehricho pistol. One key difference to the Gen II, is the new Baby Eagle has a rifled barrel, instead of a Polygonal barrel, which makes bullet selection much easier.
Caliber: 9mm Luger (10-round)
Barrel: 120mm
Magnum Research Magnum Lite Semi-Auto .22's

The first thing you'll notice when you pick up the rifle is the incredibly light weight. It does not feel like an ordinary .22 rifle. The rifle is built like a Ruger 10/22 but with an integral weaver rail machined from the same alloy as the receiver. It utilises the Ruger rotary magazine, which makes it easy to find spare mags. But most importantly it shoots well with good quality ammo. B709 is required for Cat C license holders.
Caliber: 22 LR (Graphite or Aluminium Barrel)
Magazine: Ruger 10/22 10-Shot Rotary Magazine
Integral Weaver Rail
Ultra Lightweight and easy to shoot
Magnum Research BFR

The BFR is the Biggest Finest Revolver on the market. It is built upon a single action, and has a lot of horsepower. The BFR is all stainelss and has a precision grade barrel that delivers unmatched accuracy with lead or jacketed bullets. Made in USA.
Calibers: 30-30 Win (7.5" or 10"), 357 Mag (7.5"), 44 Mag (5" or 7.5"), 444 Marlin (10"), 45-70 Govt (7.5" or 10"), 450 Marlin (10"), 460 S&W (7.5" or 10"), 45 LC/410 Ga (7.5"), 454 Casull (7.5"), 500 S&W (7.5" or 10").